Rivox
Rivox is a quiet farm on the Southern Upland Way, by Moffat (the first 'Dark Sky' town in Europe), within a thousand hectares of forestry, accessed from the B7076, National Cycle route 74.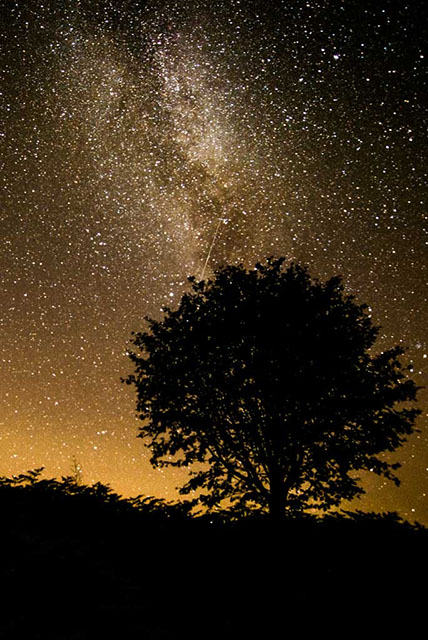 Rivox Bunkhouse@Night
The area has been inhabited since at least the Iron Age and on the way into Rivox you pass an old forge in the hill behind Cloffinburn Cottage, now appearing as a rocky notch in the hillside.
As you cross the bridge over the Cloffin Burn, to your left the trees hide an Iron Age fort, one of the 4 scheduled and 53 unscheduled archaeological sites in the forest.
The forest also enjoys a large diversity of wildlife, with Red squirrels, Black grouse, Goshawk, Owls, Otters and Badgers, and streams with the clean water needed by pollution sensitive invertebrates.
Rivox Bunkhouse
The bunkhouse is an ideal base for walking, mountain-biking, or staying overnight when cycling between John O'Groats and Lands-End, JOGLE, or LEJOG!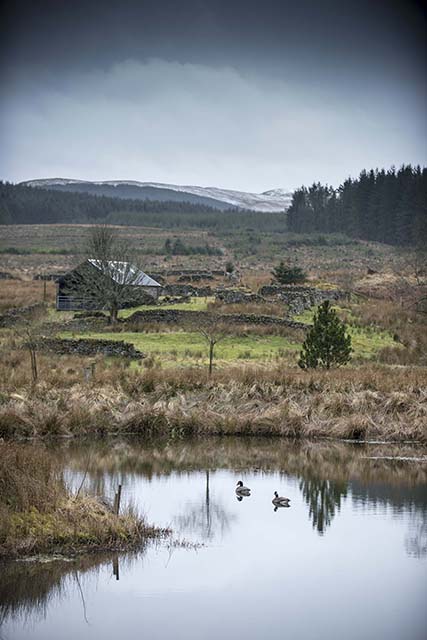 Facilities
include bunks for up to 18 people in two rooms (you will need a sleeping bag), with two toilets, a shower, and a kitchen. There is an oven/hob in an external annex and outside you can sit round a campfire overlooking the lake. Barbeques welcome!
Parking is private and free. Rivox is accessed via a private road from the B7076 (follow the signs for Middlegill and go under the railway bridge, cross the Cloffin Burn and keep on going until you see the turn off ). The road is used daily by 2WD vehicles, but care should be taken with ground clearance - if you have any access concerns contact us.
News: Moffat Show 2017
A great event for all the family - here are pictures of some of the events, featuring (probably) the youngest stock handler in Scotland!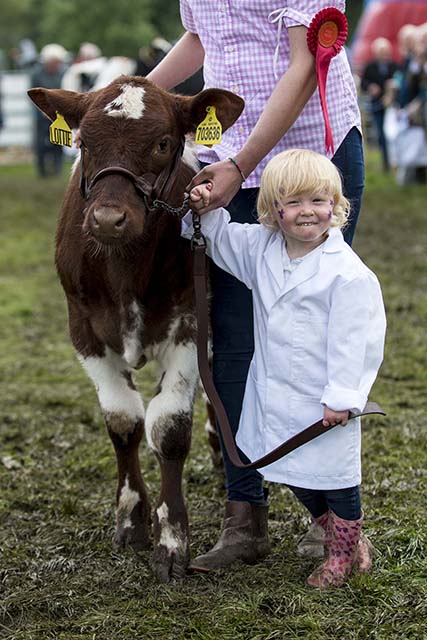 Earlier Events
Rivox - Scottish Rally - May 2017. The first day of an exciting 74 miles through forestry in Dumfries and Galloway just by Rivox Bunkhouse.
Moffat Sheep Races - August 2016. A real highlight in the calendar - fun for all the family with smiles all round!
Rivox Stage - Scottish Rally. 120 cars, and two stages with Rivox at its centre - click link for pictures from the event taken from inside the farm (including a 'big off' that didn't stop the competitors safely completing the stage!).
Goslings and Ducklings@ Rivox - May 2016. Both Canada Geese Goslings and Mallard Ducklings arrived in the same week! Click on the link for pictures.
Scottish Endurance Riding Club (SEC) @ Rivox - April 2016. A cold but bright day with good spirits much in evidence!